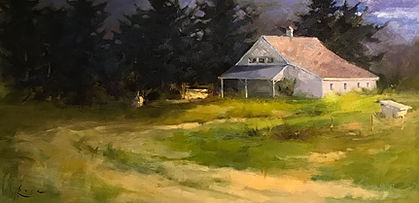 First Place: Oil/Acrylic
Howard Rose
Howard Rose depicts a serene scene with a sense of foreboding in his painting "Manchester Vermont." This landscape is not only beautifully painted, but also intriguing and mysterious.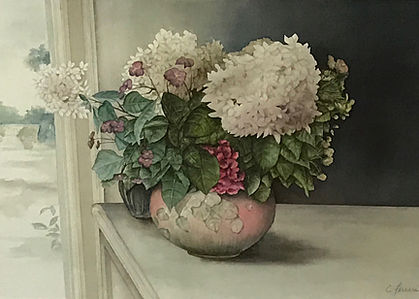 First Place: Watercolor
Christine Ferrari
Christine Ferrari's painting "Summer Snowballs" captures a feeling of peace and serenity. This floral arrangement was carefully rendered with each leaf and flower delicately painted. The composition is engaging because it draws you past the bouquet and into the yard outside.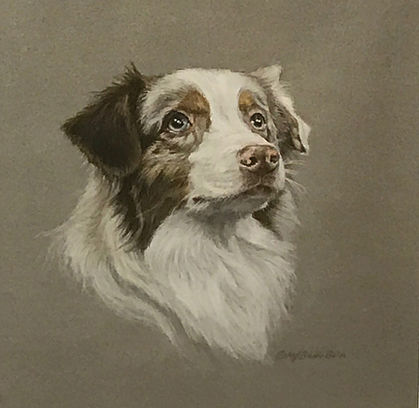 First Place: Other Media
Beryl Bush
Beryl Bush's drawing "Australian Shepherd" portrays the elegance and emotion of a loyal pet with skillful precision. She depicts this dog's honest gaze with such care. You can see the love in this portrait.
Second Place: Oil/Acrylic
Shawn Sullivan's painting, "Good Times," is skillful, creative, and original. It has a dynamic composition which leads your eye around the canvas. It creates a humorous narrative which leaves the viewer with more questions than it answers.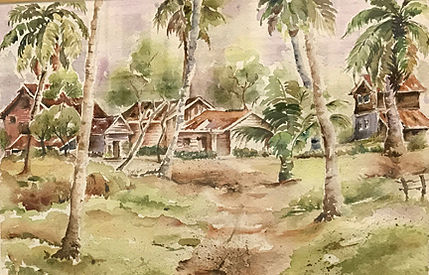 Second Place: Watercolor
"On the Withlacoochee River" by Rita Ilse has a pleasantly-balanced composition. The flickering quality of the paint beautifully echoes the sensation of dappled light.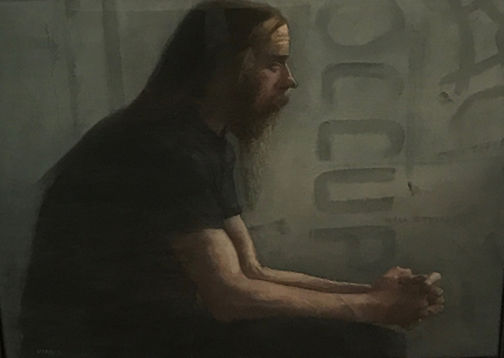 Second Place: Other Media
"Occupy Wall Street Resident" by Diana DeSantis was drawn with pastels, but it reads like an oil painting with it's dark, muted colors and sumptuous texture. This is a very powerful image, capturing a man in deep contemplation.
Third Place: Oil/Acrylic
"La Forza del Desinto" by Karmen Elsen is superbly painted, portraying the figure with subtle values and delicate brush strokes. The woman's grave expression is emphasized by the skull and candle that looms behind her — inviting you to contemplate life and loss.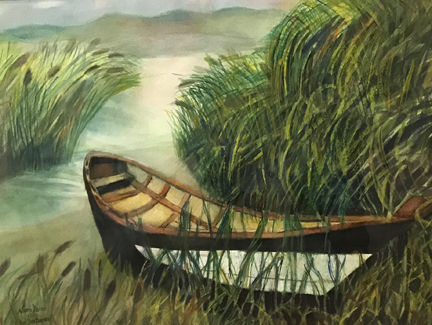 Third Place: Watercolor
"Caught in the Cove" by Naomi Klosner has a sober, mysterious quality that makes a strong impact. The deep colors of the reeds and the light passage into the distance helps to create a dream-like mood.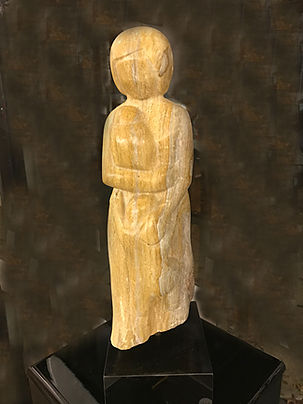 Third Place: Other Media
Suzanne Posner depicts the mother-child bond in her elegant sculpture "Motherhood." The subtle gesture conveys intense emotion. This piece is also enriched by the warm, smooth texture of the stone.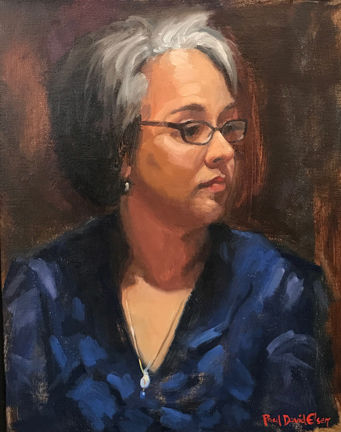 Certificate of Merit: Oil/Acrylic
"Oil Sketch of Karmen" by Paul David Elsen is a sensitive portrait that goes beyond the surface to convey the inner beauty of the sitter. The light softly falls on the figure and reveals a quiet grace. The composition leads your eye around the canvas with a gentle flow. The brush strokes are painterly, making this piece a small gem.
Certificate of Merit:
Oil/Acrylic
"Winter Stream" by Don Huber is a stunning painting combining technique and design. He captures the beauty of winter snow using rich impasto brush strokes. The colors and values enhance the sensation of a winter day.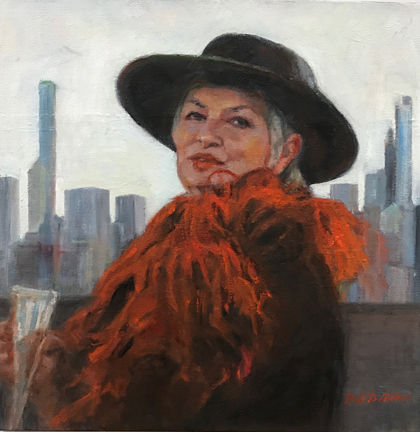 Certificate of Merit:
Oil/Acrylic
"On Top of the MET" by Pat DeTullio is solid, even-handed, and well composed. The consistent paint quality and strong palette makes this an elegant painting.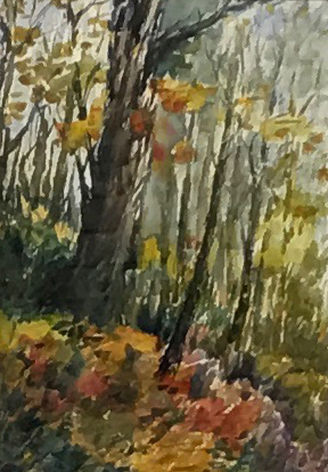 Certificate of Merit: Watercolor
The rhythm and movement of the trees create a strong impact in "Autumn" by Colette Wong. The white of the paper successfully gives the feeling of the light breaking through the darkness of the woods on a fall day.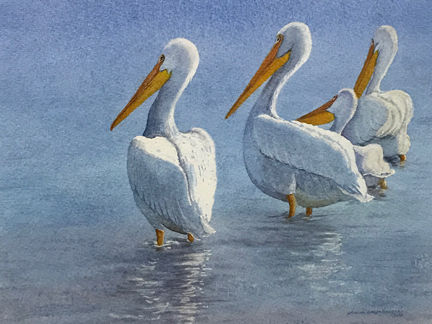 Certificate of Merit: Watercolor
"Birds of a Feather" by Sharon Way was meticulously drawn and painted. The care that went into creating it made it stand out.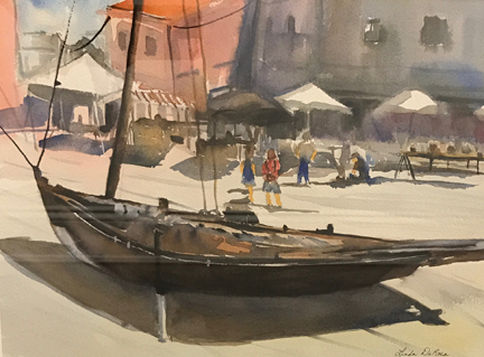 Honorable Mention: Watercolor
Linda DeRosa uses a sophisticated application of paint in "Fishing Village." Her painting beautifully memorializes a small moment of life in this village scene.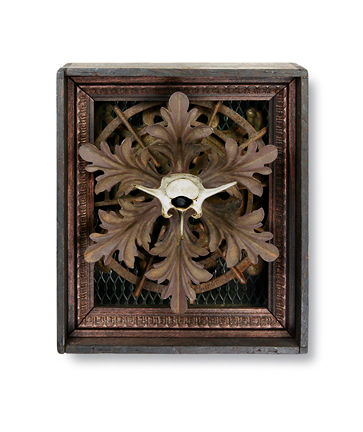 Certificate of Merit:
Other Media
"Autumn II" by Robbii Wessen is skillfully crafted and beautifully designed. It is reminiscent of discovering the beauty of a leaf-covered forest floor. One gets drawn in by the ornate details only to be confronted by remnants of life.
Certificate of Merit:
Other Media
Antonia Layton uses a solid, massive stone to add a sense of strength "Ebony." This sculpture has a strong impact which displays Antonia's impressive ability to carve a fierce animal out of stone.
Honorable Mention:
Other Media
Carolyn Obergfell's "Meeting of the Kings" is a striking piece. The three lions allude to a triumvirate; each positioned to take up a third of the canvas. Carolyn creates a tapestry of earth colors subtly camouflaging the lions.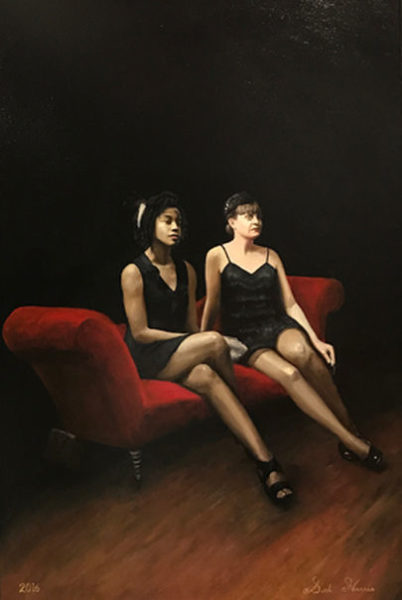 Honorable Mention: Oil/Acrylic
"Not Enough Leads" by Seth Harris combines theatrical drama with a quiet narrative. The figures are beautifully rendered using chiaroscuro to reveal their presence in the surrounding darkness.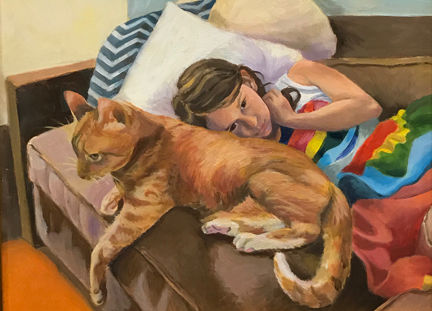 Honorable Mention: Oil/Acrylic
"Rays of Sunshine" by Barbara Silbert is a touching depiction of the bond between a girl and her cat. This painting is beautifully rendered using color and pattern to accentuate the design.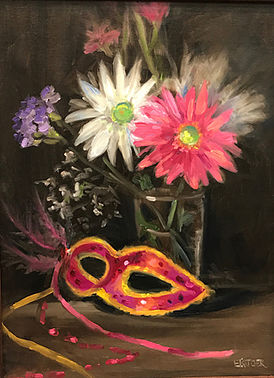 Honorable Mention: Oil/Acrylic
Ellen Katcher's painting, "Queen," combines floral and still life components to complement each other beautifully. The dark background adds drama emphasized by the mysteriously placed mask.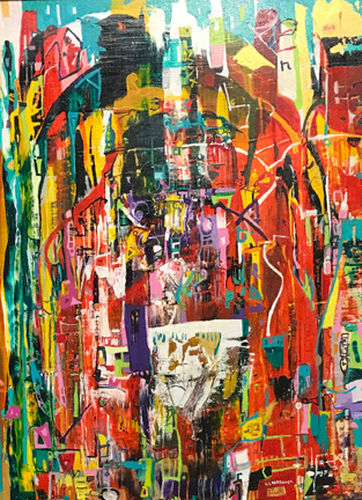 Honorable Mention: Oil/Acrylic
Karen L. Kirshner's painting "Faith" creates an immediate impact with its sophisticated use of intense colors and shapes. This painting is like peering into the tumult of one's soul.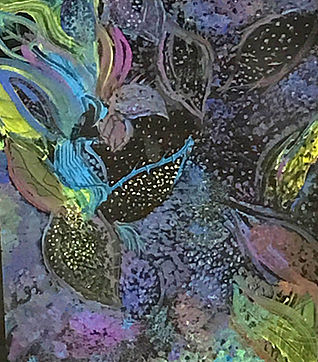 Honorable Mention:
Other Media
"Neon Garden" is a mesmerizing drawing by Joanie B. Goldberg. The colors and patterns are intriguing. The shimmering textures fading into the darkness give the sensation of looking deep into space or into the depth of the ocean.